Profile

Virtually True
notes on the software world
Free Account
Created on 2013-06-07 05:46:51 (#2034635), last updated 2015-05-31 (121 weeks ago)
0 comments received, 1 comment posted
25 Journal Entries, 40 Tags, 0 Memories, 1 Icon

About

Mini Bio
I'm a software developer/engineer/craftsman. This is the space I talk about things which relate to my profession.
I know something about many parts of the computer world, and a lot about a few things. I keep abreast on cybersecurity, programming language development, and Linux. I've professionally done devops, security research, software development, and some data mining.
I write Lisp at home, a lot. Sometimes I do some Rust or Haskell. I do other stuff for fun as well.
One thing I believe is very important in this particular time is 'libre software' with strong copyleft licenses. This is both for the purposes of repairing your own software and for the purpose of being able to trust your computer.
Because I believe this is important, I am a member of the FSF. Here is my referral widget to sign up: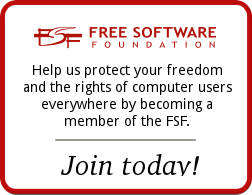 Here's my GPG key.

-----BEGIN PGP PUBLIC KEY BLOCK-----
Version: GnuPG/MacGPG2 v2.0.20 (Darwin)
Comment: GPGTools - http://gpgtools.org

mQINBFI5OTgBEADMAyzyIGGHKG5bGFvr9cd5MIDEL5PkenxxqeJxz4TLP1ljjINm
fb7P8+E70oygPUdZnnrONsavicslM4FYtnhT4YK17Jz4SVBoqhWOuJTNEdjzquYF
iOFgaleMUdiUL8c+LznULZcD32QeNJew4eakWUmlVqCtYR000/GECXPAJKKOyD5r
fzjBm9aXLJMb+kMf4Ry77UAI4jhbbo6Aoq5Dk1yop7yvQ0KdDuFR9o5CSjCsQn72
Qrx5jPad5hqsi6BIF6yQh7V2XzZCld4Po/8KecXnGev/hFNa82CvXpSJyEcz6FSl
g6Qq+oTrcw10dbeh126FquCEpHZKkvMH32Lh70ueJ4SZjm2Mqe1o2iLzlMoO4BHb
bHUbEk5Ih5MfdisCt+utYaif6cR2xQ1gOAcuPdLLutwuDvQ9/WsDr5oJxWCL30fy
9sbFmQ/+bICY7vhLksJp3jq/yRPp4nCeJE1l0NXquH7PwuPvYWQgWCzlUq0FBtkK
08SYY0ND/MIJ828PhImATE2E7qrn7xYT9IXUIplXUnaV9eEi9rCjrKyFQGkbtytN
Cd99BwjyUtus4y4uc0QprgcpjrkuUY3dfjYnifmqwiJzIwW4zJkWiv2vE6BTTAyt
goK8PticwNepjUyz9aFguuNKsw3EzcbfqCUTeTFzf3St3dMrHlx5iAkG6QARAQAB
tEVQYXVsIE5hdGhhbiAoUHJvZmVzc2lvbmFsIGFsdW1uaSBlbWFpbC4pIDxwbmF0
aGFuQHZhbmRhbHMudWlkYWhvLmVkdT6JAj8EEwECACkFAlI5OTgCGwMFCQLH6gAH
CwkIBwMCAQYVCAIJCgsEFgIDAQIeAQIXgAAKCRAmO56OZJQZb4OGEADBHTJI0sT/
F/Y+GEY0XQc4uy0bFiPYWDPqksPh1grdMUWYrp2ts7NYp504EcGyk1uk55Cz/GXd
cFQ1ODFoW2IG+vCqESSUM6wRS3JZIJoeWH1ZwxGvEuPHMnX149gIimRn5/4om4a1
iDSR6Dmdn71diGZaVk/kfoZ7tnO/R7tDfE1VSPA0L3HkH5N6z88q4tqeUunky9gI
Jd13dCO3ly0ziSW4jaRyG2qSUSTXcjE/GCETJrIEwIf3OudHv1TQ+ViVwHcRK39f
zVDZgu8YpBePBUJEAS6KJRCzMxMq4+o36ZBqMsYl9uZRC8lSNleKkdP5GHHI2QjH
HZAuNkW63NxHGFllm8A3eoNfdi2wQEnr3qNheLDg3Mo2cZ6EtphZn9dQTAzefBDh
nbUXPm626X5Zd2qVLcbVX/5Ud70ELO76XTcQvEJSslyGoVlCjlqIu55wN4QC9nAG
dxKVkEpEiMbqPhQB/xDbsMJoY0XqnZxRANCYOTVPDY6Bry11JzYGHabCd7ojyJR+
kFNJ0P3vcgG4IxaFGdWc7vyFz5nrxbtKM8bUMaOEg97TXWgdTss1vebQMIt5YXjW
9jhPws3aluJ8xD+8XlOzq7wYoU72SKVhn2C6zCLH5uqF23BuHUnSyEu9CJZwJZ/1
isQjlrIr21UT9HbJdguOgnkd8kUfKCG3brkCDQRSOTk4ARAAzFj1r6y6uSChe9Iy
A1rhrRtMgQ46dEROiT8SNtBD4qo1aYVYcjm3dOz63UM/N/XV1nw1eefsnDTfMirT
CHLHKvb9IlzELtaLn8dQlMLIY9K69wc6X3SZNsetPM7kOda6Bhc9IDfCFnlRebRA
nrRm7a24oQ4VvpCVFtUAC9ZyomKj+R1LIiPsJNPGPPv94MQpdIsAAjgwYx1UB4jY
Su939Nm10F2SXupv90iVBIZqJmXBJIxvdm9iE+HJmtrVn0Fcb1NOzctu2uctGFrB
HwgdyT1DdMzArt8OVEn42Y2MbIHe4nV+PVIG+4IkvOtOg/IB40TdyHmH7Z3Gzn31
tv3dWwNCamrju3Wwqi2wLGD7DT0h24jTUQc/jIb4ggNqISrjcqvDNhESvPsasPT5
+DJ8ung8H6U0UWcvZ/oAfsA/nkKqFdwbbIziGdf6tlHQDoGRaZt2DegceGt76r7c
U4z7NlOIMcgO7MX8FFZLfwPf5louYKN7hPaN7yA2zoS2PbDRjBvERCx+U+zkIN7z
qMpLZbZCw9uMH0Bqwz3sofBTWLlhmRJdGbV/zfYfgEFf/pa86YXddM98VQ+GwcLJ
xxs72p0T312G6Yc+0nlfGNWD187l2K7u4EwymonmF4fEP8Msd5fYdY7I/QqQ4DMc
v2dzWDjBUm8Wk8iKmInlOzSPO1EAEQEAAYkCJQQYAQIADwUCUjk5OAIbDAUJAsfq
AAAKCRAmO56OZJQZbzwiD/9BJKkbwV4gCyG6N+zoT7OqnkUsntU0MtDV8QN48vgH
cyJTT8w3TUMdivohE+W/YHfJmCphrQWxVRzWd3IrXSfXM2B89qyRHDGk0a8DUOxz
bbPThrY2dO1K2FOMgTQM6RGZetBKbRcabjgqsoi6/r9apekDsf063WXdMhVIgD4K
lDuXVUbvxJsaxO1ZN2bWtoz50iwGpwkVKoexaXvBPAWQHH7czG+OC807mNfwkJvF
AFToEN6J8hJkgfJwfOaap5/bPfht+YsrxxhEQ39O+8yLJqMwjQR4ZRfiWDfANq9z
FFFf661CPTZ5LSvpNTDbtX9Qr0qj0r/CUgy8mrMaeVSAzc30ocG4pQjV7VPz7pye
OnEQaef8NJsxamZtdOkT8iTkmyzHk2+5i9w7BgIdWmZIz/Cgg0j1BURks+jbxtTX
6S5zJjsIic7hacjIWXs+Xclet4cA5aJIthfyUNni81lREKmRHfgdIJVRxb4FAtbW
zg5pET5tjh3qcQrgu2WwcwUgePD79bkC4eePzttw27raeJUgN8XHSfdVdoPu7y6G
QUGmEZWmCxHp694H/b858zYSTCI5KqrQz+bicC7vDimsuUNq5P98VJ2iOQiY4kqh
TAHha1npVS6xFZAkE8RtOmY9HItDpgJOPbJ/7w/YZuXH4eoQfmCfWtisNXDcq2Ye
WQ==
=jS2E
-----END PGP PUBLIC KEY BLOCK-----




Connect
artificial intelligence
,
cyberpunk
,
cybersecurity
,
cyberspace
,
cypherpunk
,
encryption
,
haskell
,
linux
,
lisp
,
privacy
,
programming
,
rust
,
security
,
software

People
[View Entries]

Communities
[View entries]

Feeds
[View Entries]

Subscriptions (0)

Linking
To link to this user, copy this code:
On Dreamwidth:
Elsewhere: